Mother of 3, dōTerra Platinum Leader, Co-Founder Essential Sisters, Co-Founder 889 Community
Special fact: Feminist through and through
Confidence Tip #1:
With Self-Love to Confidence.
Bénédicte de Bellefroid, Copenhagen
Founder of French Kiss Studio, multi-brand concept and sustainable label.
Special fact: Foodie with love for cheese & oysters
Priya & Divya Kukar, London
Co-Founders of ChaYkra, an eco & ethical wellness/yogawear brand
Special fact: Priya loves tennis, running & yoga whilst Divya is a real foodie who loves experimenting with cooking
Founder of Beauty Destination Fresh Beauty Fix, Beauty Writer and Blogger
Special fact: Loves Bollywood and Bhangra dancing
Confidence Tip #3:
Confidence begets beauty and vice versa.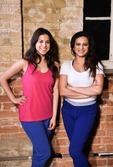 Confidence Tip #2:
Confident through Decision and Action.
Confidence Tip #4:
Follow the 'Test & Learn' Path to Confidence.
Weight Loss & Health Strategist, Owner of a Health, Fitness & Nutrition Business
Special fact: Loves spending time with his two daughters
Confidence Tip #5:
Confident by getting into shape from within.
Certified Personal & Business Coach & Trainer,
Yoga Teacher, Speaker and dōTERRA Silver Leader (Essential Oils), No. 1 AMAZON Bestseller Author of the eBook "Feel Understand Heal - Design Your Life For Results".
Special fact: Dancing and moving, wherever and whenever
Confidence Tip #6:
Dive deeper to yourself, mentally, physically and emotionally to build confidence.
Join my exclusive Facebook Group